Scarily Good Sausage Mummies with Ballymaloe Relish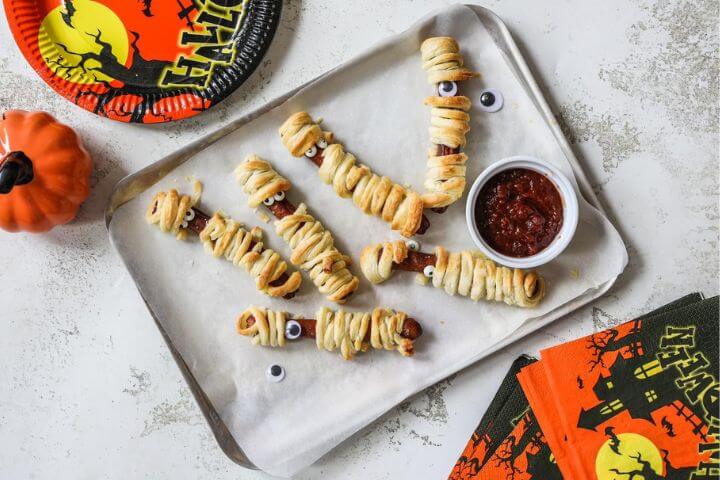 Cooking Time:

30 minutes

Serves:

6

Allergens:

Gluten (recipe can be adapted to be gluten-free)
Description
If you're planning on having a Hallowe'en party or just looking for something fun to make with the kids, our scarily good Sausage Mummies (wrapped in petrifying pastry bandages) might be just what you're looking for. Not only are they quick and simple to make, but they're also tasty, filling and look fantastic on any ghoulish buffet table. Don't forget to serve with Ballymaloe Relish on the side – a frightening faux pas if forgotten. You can make your own pastry, courtesy of our recipe below, or use shop-bought pastry – which can be just as good, and is available as both gluten-free and vegan options.
Ingredients
Puff pastry
6 Frankfurter sausages
1 egg (beaten)
1 tbsp plain flour
Edible sugar eyeballs for decoration / soft cheese & finely-diced black olives for decoration
Ingredients for Puff Pastry:
112g plain flour
¼ tsp salt
70g unsalted butter (take out of fridge 20 minutes before use - cube the butter)
125ml water (ice cold)
Dietary Suitability
Contains Gluten
Not Suitable for Vegetarians
Method
Once you have your pastry, preheat the oven to 200oC / 180oF / Gas Mark 6.
On a lightly floured surface, roll out your dough to about half a centimetre thick - if you are using shop-bought ready-rolled pastry, this will already be the ideal thickness. Cut the dough into 12 thin strips, about half a centimetre wide - the easiest way to do this is by using a pizza cutter.
Wrap the pastry around each raw Frankfurter - you will likely need 2 strips per sausage. Place onto a baking tray lined with greaseproof paper and coat each "mummy" with the beaten egg using a pastry brush. Bake for around 20 minutes or until the pastry is golden and puffed.
You can buy edible sugar eyes from the baking department in most supermarkets or, for a more savoury finish, add two dots of cream cheese to the mummies once cooled and top with a small piece of black olive to create the illusion of eyes.
Serve the sausage mummies with a generous dollop of Ballymaloe Original Relish.
To make homemade pastry:
For the homemade pastry, it is best to use a cold bowl; when you take the butter out of the fridge to warm, place the bowl in its place to cool.
Sift the flour into the cold bowl, add in the salt and then mix through the cubed butter, ensuring each cube is completely coated in the dry mix.
Pour in the water, combining all the ingredients together quickly with a knife to ensure they remain as cold as possible.
Gather the dough with your hand before tipping it on to a clean work surface. Squash the dough into a rough oval shape with your hands then wrap in cling-film and place it in the fridge for around 15 minutes.
Set the chilled pastry on a lightly floured work surface, adding an additional dusting of flour to the top of the pastry. Using a rolling pin, roll out the pastry in one direction until it is approximately 1cm thick, attempting to create a square shape by straightening the dough with your hands while rolling. Fold the top third of the pastry down and the bottom third of the pastry up to create a block, and then roll this again to 1cm thickness.
Repeat this process four times. If at any point during the folding and rolling the dough begins to feel greasy, chill for 10 minutes before handling again.
The pastry must be chilled before use for a minimum of one hour in the fridge. The dough will benefit from a longer chill, if possible, so it can be prepared the day before you want to use it.