Smoked Mackerel Tacos with Pickled Red Onions, Cucumber Ribbons & Ballymaloe Sliced Irish Beetroot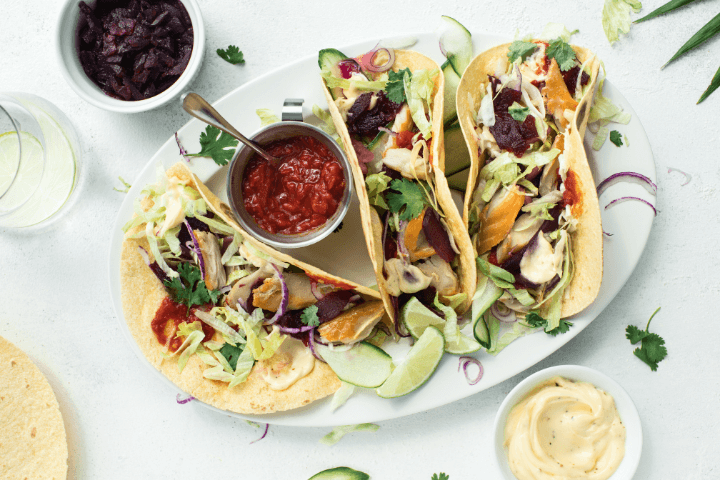 Cooking Time:

30 minutes

Serves:

2

Allergens:

Fish, egg, mustard
Description
Our smoked mackerel tacos pack a real punch, full of vibrant flavour. Thanks to our Fiery Relish, these mouth-watering morsels taste like an Irish summer in a Mexican taco! Not a mackerel lover? Feel free to swap for a different fish, meat or protein source of your choice. With the sharpness of pickled red onions, the freshness of the cucumber ribbons and the sweetness of our beetroot, you are guaranteed a taste sensation!
Ingredients
2 smoked mackerel fillets (skin on or off and free of bones)
4 corn tortillas (6" diameter)
8 slices Ballymaloe Sliced Irish Beetroot (drained)
4 tbsp pickled red onions
1 small cucumber (peeled into ribbons)
¼ red onion (thinly sliced)
¼ head iceberg lettuce (shredded)
4 tbsp Ballymaloe Mayo, mixed with 2 tbsp Ballymaloe Fiery Relish
For your Pickled Red Onions:
2 small red onions (peeled and thinly sliced)
1 cup white wine vinegar
2 tbsp sugar
1 tbsp sea salt
Dietary Suitability
Contains fish
Contains egg
Contains mustard
Method
Shallow-fry the corn tortillas in sunflower oil.
Use a lightly-clamped tong to create a taco shape, draining any excess oil on to kitchen paper.
Break the mackerel fillets into chunky pieces.
Spread some fiery mayo inside each taco.
Fill each taco with the shredded iceberg lettuce, sliced red onions, cucumber ribbons, smoked mackerel chunks, Ballymaloe Sliced Irish Beetroot and your homemade pickled red onions.
Add a dollop of the fiery mayo to the top of the taco and ta-da!
To make the Pickled Red Onions: Peel and thinly slice 2 small red onions and place them in a clean & dry Ballymaloe Foods jar/jam jar. Mix the vinegar, sugar and salt together, and bring to the boil. Pour over the onions, then allow to cool. Once cool, pop the lid on the jar, and use as needed.