The Cork Baked Potato with Gubbeen Cheese & Chorizo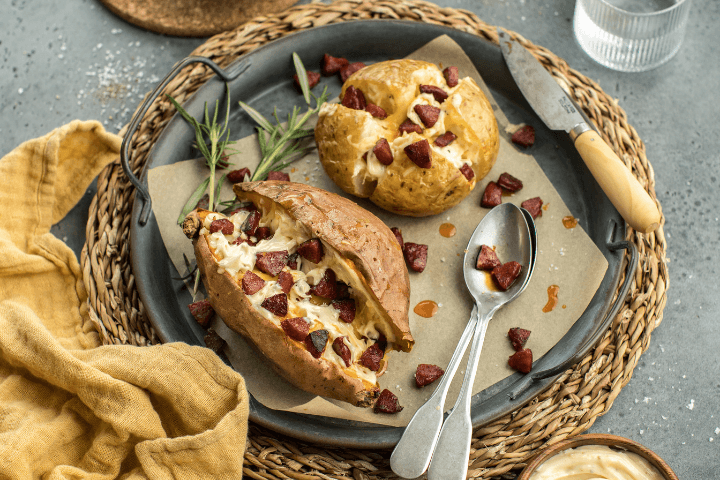 Cooking Time:

1 hour 10 minutes

Serves:

4

Allergens:

mustard/ egg/ sulphites
Description
This simple baked potato supper is elevated with the addition of warmed Irish Gubbeen Chorizo. An all round delicious simple supper that works in every season.
Ingredients
4 Potatoes
Ballymaloe Mayo
1 stick of Gubbeen Chorizo- diced and very gently pan fried in olive oil
170g of Gubbeen cheese or grated cheddar
Salad Leaves
Ballymaloe French Dressing
Method
Preheat your oven to 250* conventional. Place the spuds on the tray and skewer each, three times with a fork. Bake in the preheated oven for one hour or until a skewer comes out easily and without resistance.
Pop on the grill just before the spuds are cooked.
When the potatoes are cooked, carefully cut a cross in each. Force up the centre and fill each one with a tablespoon of Ballymaloe Mayo and top with lots of grated cheddar. Pop under the grill and once melted and bubbling place on a warm plate to spoon over the warmed diced chorizo and chorizo oil and finally a sprinkle of sea salt.
Serve immediately with a simple green salad and Ballymaloe French Dressing.