The Cork Baked Potato with Gubbeen Cheese, Chorizo & Ballymaloe Mayo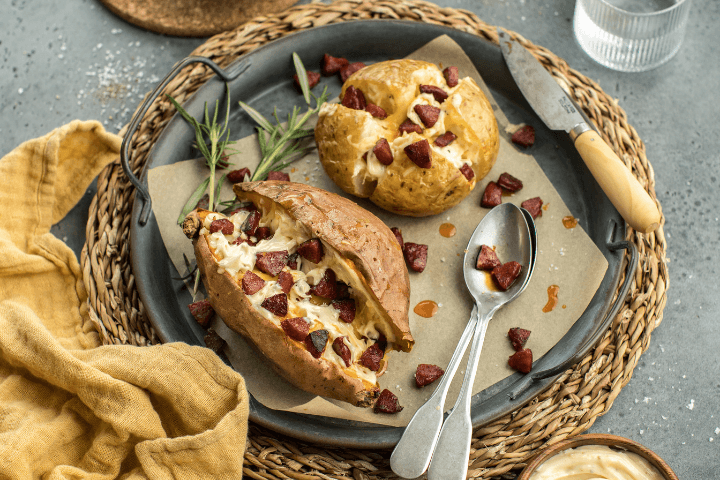 Cooking Time:

1 hour 10 minutes - Preheat the oven to 250°C/475°F/Gas Mark 9

Serves:

4

Allergens:

Mustard, egg, sulphites
Description
The humble spud gets elevated with Gubbeen cheese and chorizo in this simple – and simply delicious – recipe. Gubbeen cheese creamy with mushroom & nutty tones and has been produced in Cork for over 40 years. The name "Gubbeen" is an anglicisation of the Irish word "Gobín" which means a small mouthful. We suggest taking a BIG spoonful of this tasty dish, serving it with a healthy dollop of Ballymaloe Mayo and fresh salad leaves, drizzled with Ballymaloe Classic French Dressing.
Ingredients
4 potatoes
Ballymaloe Mayo
Chorizo (diced and pan-fried)
170g Gubbeen cheese or grated Cheddar
Salad leaves
Ballymaloe Classic French Dressing
Method
Preheat the oven to 250°C/475°F/Gas Mark 9.


Place the spuds on the tray and skewer each 3 times with a fork. Bake in the preheated oven for one hour or until a skewer comes out easily and without resistance.
When the potatoes are cooked, carefully cut a cross in each. Force up the centre and fill each one with a tablespoon of Ballymaloe Mayo and top with lots of grated Gubbeen cheese or Cheddar. Pop under the grill and, once melted and bubbling, place on a warm plate, adding your chorizo.
Serve immediately with a simple green salad and Ballymaloe Classic French Dressing.