Tomato and Prawn Risotto with Ballymaloe Hidden Veggies Pasta Sauce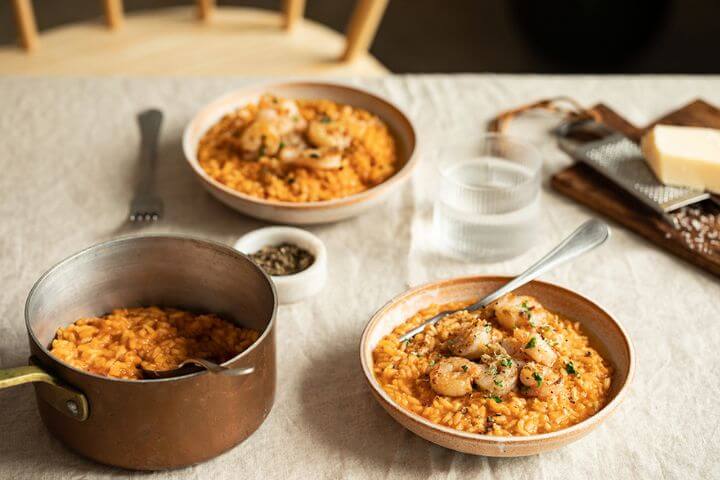 Cooking Time:

30 / 40 minutes

Serves:

4

Allergens:

cereals containing gluten, crustaceans, milk
Description
This Tomato and Prawn Risotto is a real treat. Using our Ballymaloe Hidden Veggies Pasta Sauce, you are also getting your veggies in. Risotto is a dish that is usually kept for special occasions. But we say it could be your go-to once a week instead!
Ingredients
1 jar of Ballymaloe Hidden Veggies Pasta Sauce
1.5 pt of chicken stock
1 onion (finely chopped)
2 cloves garlic (finely chopped)
400g carnaroli / arborio rice
2 oz freshly grated parmesan
1 oz butter
12 prawns (deshelled and veined)
2 cloves garlic (finely sliced)
4 tbsp olive oil
Flat leaf parsley
Method
: In a medium saucepan, combine the chicken stock and Ballymaloe Hidden Veggies Pasta Sauce. Bring to a simmer and keep warm over medium-low heat until ready.
Meanwhile, heat 2 tablespoons of oil in a large saucepan over medium heat. Add in the chopped onion and cook, stirring often, until golden and very soft, 4-5 minutes. Add garlic and cook, stirring, until softened, about I minute.
Add in the rice and cook for 2/3 minutes, stirring until some grains are translucent, about 3 minutes. Ladle in 2 cups tomato and chicken broth, simmer, stirring frequently, for 8-10 minutes until completely absorbed. Ladle in another 2 cups tomato broth and continue to cook, stirring frequently, until rice is cooked through and most of the broth is absorbed, 12-15 minutes.
Before the risotto is finished - 5 minutes from the end of cooking, heat a non stick frying pan. Dry the prawns with kitchen paper and place in a clean bowl. Add 2 generous tablespoons of extra virgin olive oil and toss to coat fully. Cook on the smoking pan.. Medium prawns take 3/ 4 minutes to cook and larger prawns take 5/7 minutes. Ensure they are firm to the touch and cooked all the way through. Add in the garlic for the last two minutes of cooking and sprinkle sea salt and freshly cracked black pepper. Finish the risotto.
Add the butter, 2 oz. Parmesan, and remaining cup of tomato broth, and cook. Stir constantly for about 4 minutes, until risotto is very creamy looking. Taste and season, and add more salt if needed.
Divide the risotto among hot plates. Top each with hot charred garlic prawns and lots of shaved parmesan. Then add lots of pepper, and drizzle more extra virgin olive oil. Enjoy every perfect bite.