Vegan Christmas Nut Roast with Ballymaloe Vodka Cranberry Sauce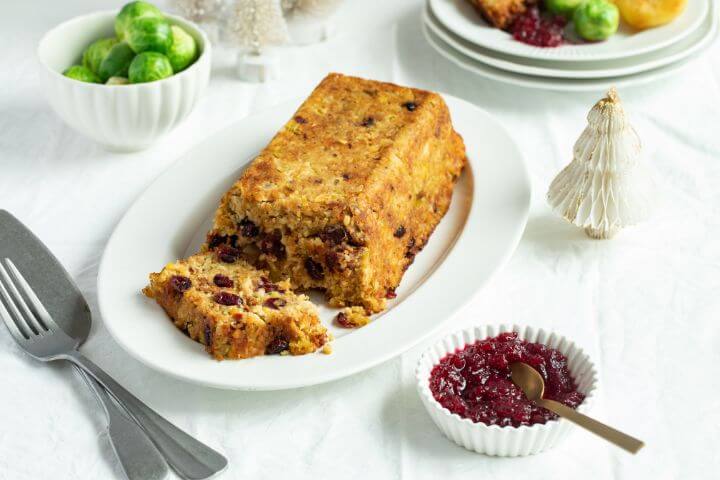 Cooking Time:

1.5 hours

Serves:

6 - 8

Allergens:

Nuts
Description
Full of flavour and texture this delicious and nutritious recipe takes a little longer but is worth the effort! Our festive nut loaf, tastes even better served with our limited edition Ballymaloe Vodka Cranberry Sauce.
Ingredients
50g dried red lentils
300ml water
1 vegan-friendly vegetable stock cube
3 tbsp extra virgin olive oil
1 onion, finely chopped
3 carrots, finely chopped
2 celery sticks, finely chopped
1 small leek, finely chopped
1 parsnip, finely chopped
2 garlic cloves, crushed
½ tsp smoked paprika
½ tsp cayenne pepper
Sea salt and freshly ground black pepper
300g mixed nuts, finely chopped or roughly ground
85g dried cranberries
25g milled flax seeds
zest of 1 lemon
zest of 1 orange
4 tbsp peanut butter
Ballymaloe Vodka Cranberry Sauce
Method
Preheat the oven to 180°C/160°C fan/gas mark 4. Line a 2lb loaf tin with non-stick parchment paper.
Put the lentils, water and stock cube in a small saucepan and bring to the boil, then reduce the heat and simmer for 20 minutes, stirring continuously, until the lentils are tender. Set aside.
Meanwhile, heat the oil in a wide, high-sided frying pan on a medium heat. Add the onion, carrots, parsnip, garlic, smoked paprika and cayenne. Season with salt and pepper and cook, stirring often, for 6-8 minutes, until softened but not coloured.
Transfer the cooked lentils and vegetables to a large bowl. Add the chopped nuts, dried cranberries, oats (or flax seeds), lemon and orange zest and peanut butter (or cashew butter). Use a wooden spoon to beat the mixture together. Taste the raw mix and ensure you're happy with the seasoning
Pack the mixture tightly into your prepared tin, then cover with a sheet of parchment to prevent the nut roast from colouring too much or drying out.
Bake in the preheated oven for 25 minutes, then remove the parchment and bake for a further 15 minutes to achieve a rich brown colour. Insert a skewer in the middle to ensure it's cooked through – the skewer should come out clean.
Remove from the oven and allow to cool on a wire rack for 10 minutes. Carefully turn it out onto a warmed serving platter by putting the platter on top of the tin. Wrap a clean tea towel around the plate and the tin, then turn the tin upside down onto the platter. Lift off the tin and remove the parchment paper.
Cut the nut roast into slices and serve with a dollop of Ballymaloe Vodka Cranberry Sauce. Serve with crispy roast potatoes and roasted brussels sprouts to add all the Christmas feels to this dish.
Note: Blitz porridge oats in a food processor for a less crumbly texture, if preferred. This dish can also be made in a 23cm ring garland tin or a round cake tin (15cm or 20cm).