Vegetarian Bagel with Ballymaloe Original Relish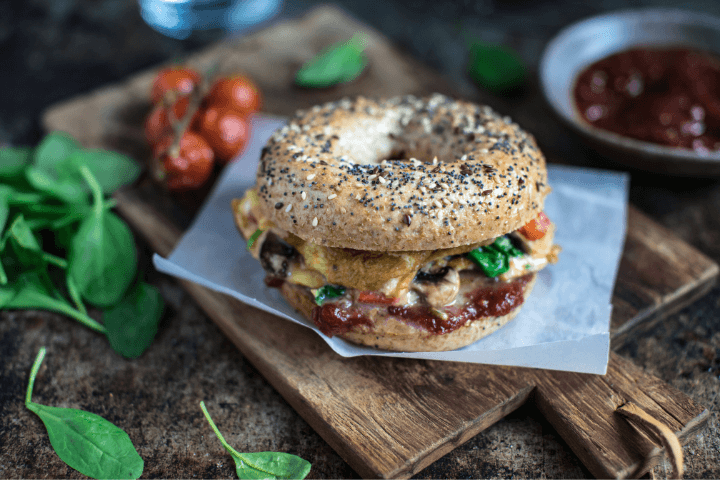 Cooking Time:

20 minutes

Serves:

2

Allergens:

Contains Dairy, Contains Mustard Seeds, Contains Gluten
Description
If you are clever you will make enough for two because you will want this not only for your breakfast but also for your lunch. This Vegetarian Bagel is hearty and filling and jam-packed with deliciousness. This dish can also be a delicious addition to your weekend breakfast repertoire and as a delicious lunch offering. Basically, you can have this at any time of the day!
Ingredients
2 Bagels
2 tbsp. olive oil
2 eggs
100g chopped mushrooms
Handful of spinach
4-6 sundried tomatoes
200g cheddar cheese
2 tbsps. Ballymaloe Original Relish
Salt & pepper
Dietary Suitability
Contains Dairy
Contains Mustard Seeds
Contains Gluten
Suitable for Vegetarians
Method
Heat a non-stick frying pan with 1 tbsp. of olive oil, add in the chopped mushrooms, and season with a pinch of salt and pepper. Fry until nearly cooked then add in the spinach to wilt for the last minute or two. Pop onto a large cold plate and allow it to cool.
Heat a smaller non-stick frying pan, add another tablespoon of olive oil. Beat the two eggs in a bowl and season with a pinch of pepper and salt. Add in the cooled cooked mushrooms and spinach mixture and stir to combine. Using a flat bottom wooden spoon, pull the sides of the omelette to the centre and tilt the pan to fill the gaps with the remaining raw egg mix, continue until the omelette has set (2 mins). Carefully flip the omelette over for 30 seconds to simply seal the top. Flip onto a clean chopping board while you prepare the rest of the components.
Take your freshly toasted bagels and slather both sides in Ballymaloe Original Relish, place half of your mushroom and spinach omelet on top, then cheddar cheese, a few baby spinach leaves, and 2 delicious sundried tomatoes then pop on the lid.