Vegetarian Vietnamese Spring Rolls with Fiery Relish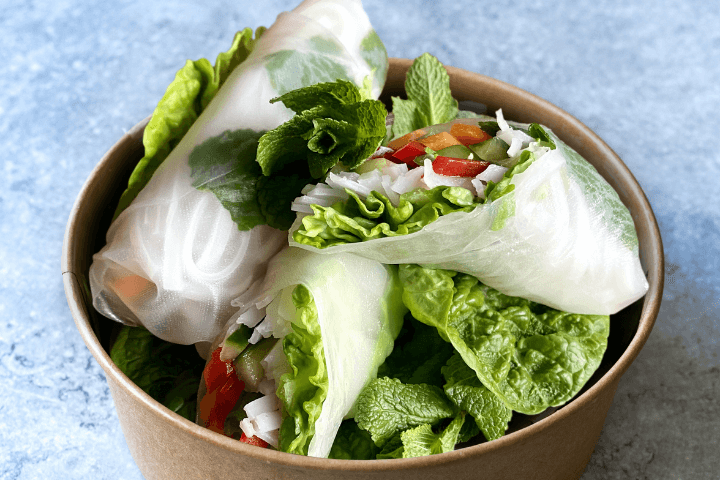 Cooking Time:

1 hour

Serves:

2 per portion- serves 5

Allergens:
Description
Treat yourself to these delicious Vegetarian Vietnamese Spring Rolls. Serve with a honey, soya sauce and Ballymaloe Fiery Relish dip and enjoy every mouthful!
Ingredients
½ red pepper, trimmed and cut into 3" julienne sticks
2 spring onions, half, ¼, cut into 3" julienne
1 small cucumber- ½, deseed, cut into 3" julienne
1 large carrot, peeled and julienned
5 broccolini, split into ¼'s on the length
10 green beans- top tail, split in half on the length
10 sheets of rice paper wrappers
40g rice vermicelli
20 Lettuce leaves
20 large mint leaves
For the dressing
1 tsp honey
3 tsp rice wine vinegar
Sea salt and freshly cracked black pepper
For the dipping sauce
8 tbsp Light Soy sauce
3tsp Ballymaloe Fiery Relish
2tsp honey
Dietary Suitability
Dairy Free
Suitable for Vegans
Method
In a bowl, cover the rice vermicelli in boiling salted water, cover immediately in cling film for 8 mins then drain and cool under running water, drain again
Place the prepared julienne of veg into ten mixed bundles, and place onto a baking tray.
Mix the dressing well and sprinkle over each mound of vegetables. Leave to infuse for 20mins, turn each bundle halfway through to ensure flavor is dispersed.
In a large bowl pour in boiling water top up with cold water to create a very warm bath!
Take a rice paper sheet into the bath and feel as the heat turns into a pliable sheet, remove carefully and place on your clean worktop (the excess water prevents it from sticking to your worktop. Flatten into a round.

Place a mint leaf in the centre, top with some cooled rice vermicelli, then your seasoned bundle of veg and lastly a piece of butterhead.
Pull the base up over the centre and pull the top down to seal both ends. Now start to roll from the sides applying pressure to create a firm bundle. Wrap until fully enclosed a firm sausage shape is achieved. Place on a well oiled (olive oil) clean baking tray. Ensure they do not stick together. Cover in a well-oiled piece of cling film.
Mix the dipping sauce ingredients together and taste, adjust if necessary and remember the chilli flavour will increase if allowed to macerate!
To serve: in a box place two cos leaves and pop a spring roll on each. Pop in some dipping sauce (in a container) and serve.