Vegetarian Vietnamese Spring Rolls with Ballymaloe Fiery Relish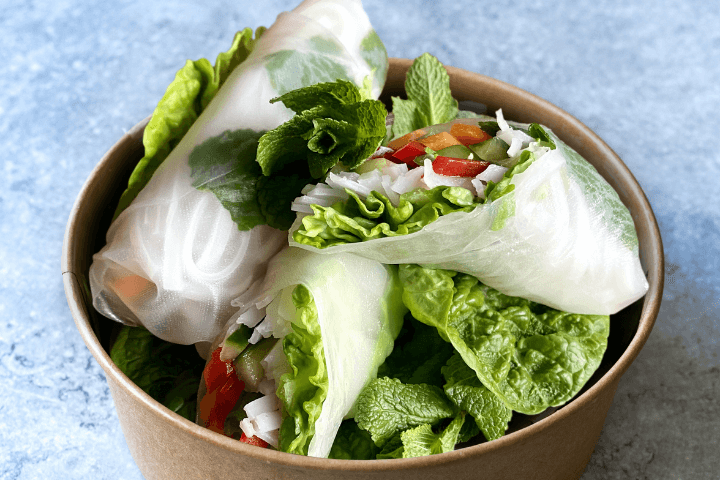 Cooking Time:

1 hour

Serves:

5 (2 per portion)

Allergens:

None
Description
Don't let these Vietnamese Spring Rolls fool you – they may look dainty but they pack a punch of flavour! To wrap our rolls, we use rice paper wraps. Each wrap brand has different cooking times, so please check the packaging on your rice paper wraps carefully – you'll also need a big bowl of very warm water to mold them in. Our Vietnamese Spring Rolls are served with a honey, soy sauce and Ballymaloe Fiery Relish dip which also works well as an impromptu dressing if serving with a side salad! This recipe calls for plenty of julienned vegetables so have a sharp knife at the ready to turn all your veggies into thin strips!
Ingredients
10 sheets of rice paper wraps
40g rice vermicelli
Olive oil
½ red pepper (trimmed and cut into 3" julienne sticks)
2 spring onions (cut into 3" juliennes)
1 small cucumber (halved, de-seeded and cut into 3" juliennes)
1 large carrot (peeled & julienned)
5 broccolini (or broccoli) (split into quarters on the length)
10 green beans (topped, tailed and split in half on the length)
20 lettuce leaves
20 large mint leaves
For your Dressing:
1 tsp honey
3 tsp rice wine vinegar
Sea salt & freshly-cracked black pepper
For your Dipping Sauce:
8 tbsp light soy sauce
3 tsp Ballymaloe Fiery Relish
2tsp honey
Dietary Suitability
Dairy Free
Suitable for Vegans
Method
In a bowl, cover the rice vermicelli in boiling, salted water.
Cover immediately in cling film for 8 minutes, then drain and cool under running water, before draining again.
Place the prepared julienne of vegetables into ten mixed bundles and pop on to a baking tray.
Mix the dressing well and sprinkle over each mound of vegetables. Leave to infuse for 10 minutes, then flip your veggie mounds over to let the dressing really seep in, and infuse for a further 10 minutes.
In a large bowl pour in boiling water, then top up with cold water to create a very warm bath! Take a rice paper sheet in to this "bath" and feel as the heat turns it into a pliable sheet. Remove your sheet carefully from the water and place on your clean worktop (the excess water prevents it from sticking to your worktop.) Flatten into a round.

Place a mint leaf in the centre, top with some cooled rice vermicelli, then your seasoned bundle of veg and, lastly, a piece of lettuce.
Pull the base up over the centre and pull the top down to seal both ends. Now, start to roll from the sides, applying pressure to create a firm bundle. Wrap until fully enclosed and a firm sausage-shape is achieved. Place on a well-oiled clean baking tray, ensuring that they do not stick together. Cover in a well-oiled piece of cling film.
Mix the dipping sauce ingredients together and taste, adjust if necessary and remember the chili flavour will increase if allowed to stew for a long time!
To serve... place two lettuce leaves in a box or on a small plate, and pop a spring roll on each. Add a small bowl of your Ballymaloe Fiery Relish dipping sauce and serve.